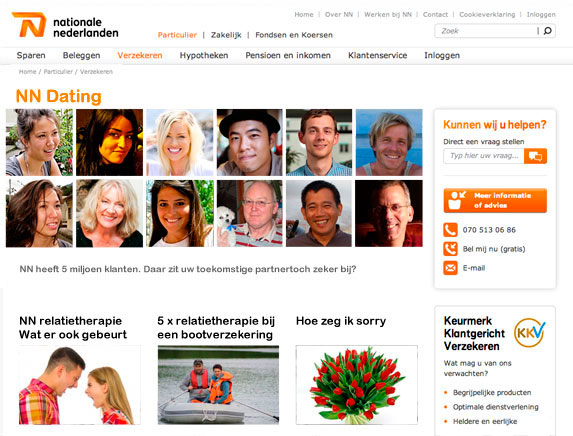 AMSTERDAM - A lack of financial awareness is a societal problem. Nationale Nederlanden wondered what role an insurance company could play? Sjaak Langenberg and Rosé de Beer developed a series of proposals for NN, in which they make tangible the term financial awareness. The proposals cover a broad spectrum – from concrete and practical, philosophical and absurd, to unorthodox and futuristic. They were collected together in the Concepts for a Financial Awareness Laboratory and in the Rethinking Insurance Day. The proposals were developed within the public investigation SocialDesignForWickedProblems, in which the added value of an artistic approach to 'wicked problems' was central. NN had introduced 'financial awareness' as a topic.
Does the financial services sector suffer from financial autism? Langenberg and de Beer pondered the question. How can the financial services employee and the financially unaware customer find one another if the emphasis is stuck on money and financial knowledge instead of the personal aspirations and the vital necessities in the customer's life? Should NN employ relationship therapists instead of insurance advisors? After all, relationship problems are an important cause of financial misery. Will you take a different decision about your financial future if a makeup artist makes you up to look 40 years older just before your appointment with an advisor? Would the small print of general conditions and financial instructions be more frequently read if they were in comic strip form? Could the solidarity principle that underlies the idea of insurance be revitalised if the insurance company was promoted as a charitable institution? Who or what would you chose to insure, for which no insurance yet exists? And what could you do to insure that for yourself? The questions asked by Langenberg and de Beer pick apart certainties and strip personal responsibilities bare.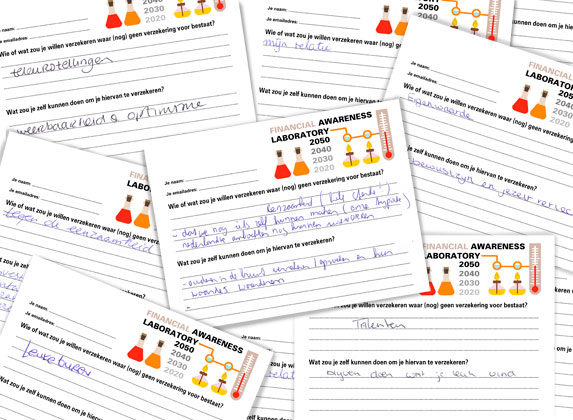 Langenberg and de Beer discovered that opening up discussion about standards of living and lifestyles is a tricky subject. Is it possible to pull the wool over people's eyes so that their the automatic resistance to new patterns of behaviour is reduced, and they make more sensible financial choices? The chance of winning the Lottery is incredibly small. Nonetheless, the Lottery sells 3 million lottery tickets each month. Imagine that the insurance premium for your pension or your sick pay consisted of lottery tickets… Langenberg and de Beer introduce the Self Employed Lottery.
Insurers ask us to consider our pensions, but just how visionary are Insurance companies? Langenberg & de Beer challenged NN to think futuristically – but whereas fantasy and science fiction are well-loved genres, fantasy is not popular as far as financial decision making goes. New tech gadgets are enormously popular... What could it mean for our financial awareness if we fuse with computers? Imagine that we could be made financially aware through a physical reaction. What if you'd get goose bumps from over-consumption or that your skin would literally turn red if your bank account was in the red… An unexpected stakeholder arrives on the scene: Next Nature could get involved with High Tech Financial Awareness.
© Sjaak Langenberg & Rosé de Beer