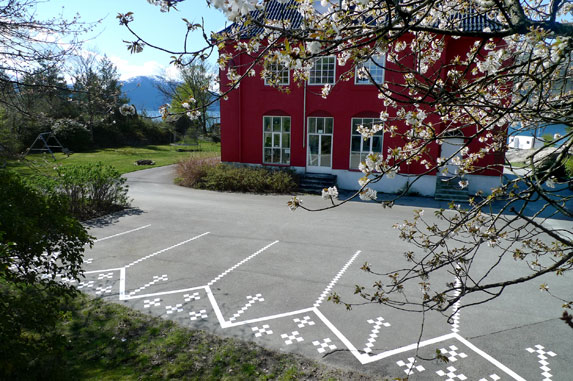 UTNE - Sjaak Langenberg and Rosé de Beer discovered, during their residency at Kunstnarhuset Messen in Ålvik (Norway), that patterns used in Hardanger embroidery and folk costumes (bunads) make ideal parking spaces when they are applied to the surface of the road with road paint. The Hardanger Folkemuseum in Utne is eager to have the design by these Dutch artists put into practice in their car park.
Langenberg and De Beer made the first design for the Hardanger car park during their first residency in Ålvik which began on the 17th of May, 2011, (the day on which Norway celebrates its constitution with parades and people wearing traditional folk costumes). They distributed postcards of the design in the Hardanger region to promote interest in the artwork.
On their return to Norway in 2012 they tested the Hardanger car park design on the car park of Kunstnarhuset Messen in Ålvik. This temporary intervention was received with great enthusiasm by the Hardanger Folkemuseum in Utne which exhibits traditional Hardanger embroidery and costumes and has Norway's largest collection of traditional Hardanger fiddles, and as a result, that museum has invited the art duo to tailor the pattern to the museum's own car park. Applied with road paint it will become a permanent public artwork and an eye-catcher for the entrance to the museum. The museum began fundraising for the realisation of this artwork in 2012 and the project is scheduled to be executed at the end of April 2013, just prior to the start of the new season.
Sjaak Langenberg and Rosé de Beer hope that other parties or municipalities in the Hardanger region will be interested in the Hardanger car park design too.
Links
Dutch national newspaper De Volkskrant: De week van het Noorse parkeervak (Dutch only)
The Norwegian Broadcasting Corporation: Parkerar i hardangersaumen (Norwegian only)
© Sjaak Langenberg & Rosé de Beer