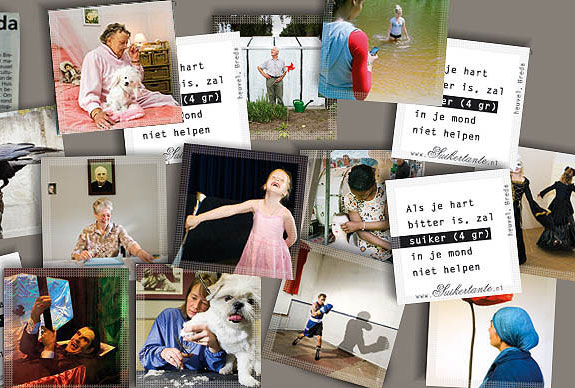 BREDA - Nobody borrows a cup of sugar from his neighbour these days. The project 'Suikertante van de Heuvel' (Sugar-aunt from Heuvel) sounds out social structures in the Heuvel neighbourhood of the Dutch city of Breda. 300.000 bags of sugar formed the core of this experiment. 'If your heart is bitter then sugar in your mouth won't help' was printed on the backs of the bags of sugar. Each household in Heuvel received an incomplete collection of 24 different bags of sugar in their letter box. To achieve a complete set of 24 different bags it was necessary to exchange them. The 24 bags together formed a frank photo-series portraying the neighbourhood and its inhabitants. Photographer Wiesje Peels took the photographs.
Sugar has a connection with Breda where CSM (Central Sugar Company) produced sugar for decades. Workers at the CSM plant lived in Heuvel and the company directors lived in well-to-do Heuvelbrink. Heuvel was Breda's first suburb in the 50's. Since 2001 the neighbourhood is being redeveloped under the motto 'Quality - we make it together'.
The swapping of sugar-bags was a sly reference to the exchanges that take place on the central square of the neighbourhood leading to unwanted encounters. Sugar collecting took place on a massive scale. Within 2 weeks from the start of distribution, 200 Suikertante collection tins had been picked up. Collectors came to Heuvel from far and wide (incl. Belgium). Bags were even bought and sold - children put sugar-bags up for sale, and on www.marktplaats.nl (Dutch eBay) 'rare sugar-bags from Heuvel' stared to appear. "You won't catch me just ringing the neighbour's doorbell" was occasionally heard.
Links
Project website (Dutch only)
Item on regional radio (Dutch only)
Dutch regional internet newspaper: Sugar-bags going from hand to hand in Heuvel (Dutch only)
© Sjaak Langenberg & Vanessa van Dam